Marmo Elite Expo: an oasis to live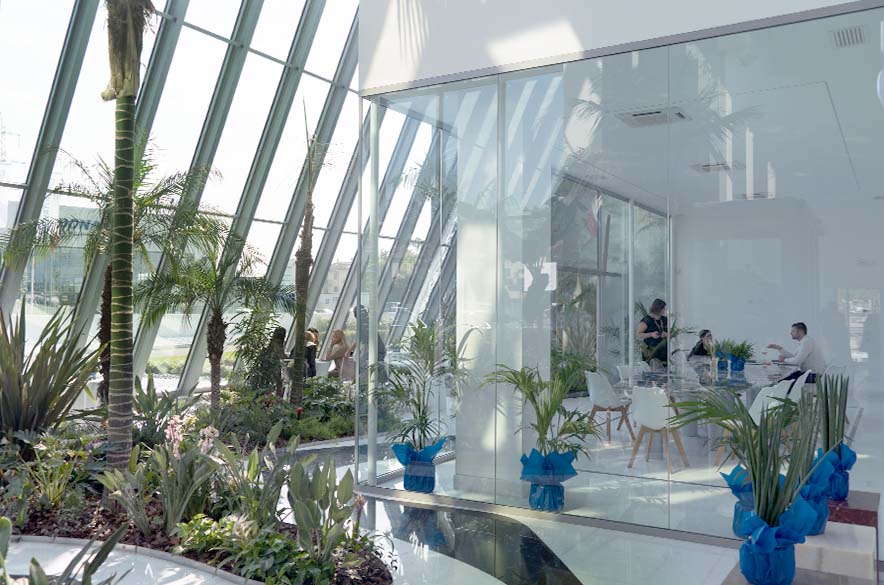 Imagine a space surrounded by greenery, where you can work on your projects amidst tropical plants, free from background noises or distractions. Now imagine that, alongside this space reserved for you and your team, there is a showroom full of unique natural stones, which you can touch with your hand to introduce them even more easily into your projects.
You don't have to imagine it, because all of this already exists in Domegliara, in the heart of the Verona marble district.
Welcome to the exclusive showroom Marmo Elite Expo.
A different workspace
Exotic but at the same time cosmopolitan, our showroom offers large workspaces where you can work on your projects and have the advice of our team.
Inspiration, productivity and creativity are the keywords that guide the activities in this exclusive space.
However, being a unique workspace is not the only function of Marble Elite Expo: the showroom is also the ideal place to organise events, professional shootings and workshops.
Walk in a coffer of natural stones
In our oasis designed for architects and marble professionals we provide a unique and customized service.
Enjoy a walk in the middle of a great selection of marbles, onyxes, quartzites, during which you will be followed, listened and advised by our experts, in order to find the perfect match between the materials of your projects and our natural stones.
When we started to imagine our showroom, we asked ourselves what more we could give to our customers and guests: we wanted supply something more than an advice based on pictures of slabs in stock, we wanted to open the doors and the heart of Marmo Elite. For this reason, at Marmo Elite Expo you will find a team of professionals at your disposal who will take you to our exclusive gallery of stones, letting you admire and touch our slabs with your hand, in order to find the most suitable one for your project.
The exploration doesn't end in the gallery: the whole showroom is a real exhibition full of live references: from the large meeting room table in Invisible Grey, to our bathrooms covered with the most precious onyxes and marbles
An exclusive and welcoming oasis
From the structure of the building to the furnishings, hospitality has been the main point for us. We created this showroom because we wanted it to be not only the place where we can show the most exclusive stones selected by our Beauty Hunter Gian Luca Budri, but also a place for sharing creative energies.
The food area is always available for a break between one stone selection to another. There you can continue the meeting until aperitif. An experience to be lived throughout the day, as if you were at home, free to work but also to talk over a coffee, a snack or a drink.