Marmo Elite Inspection: our guarantee for your extraordinary projects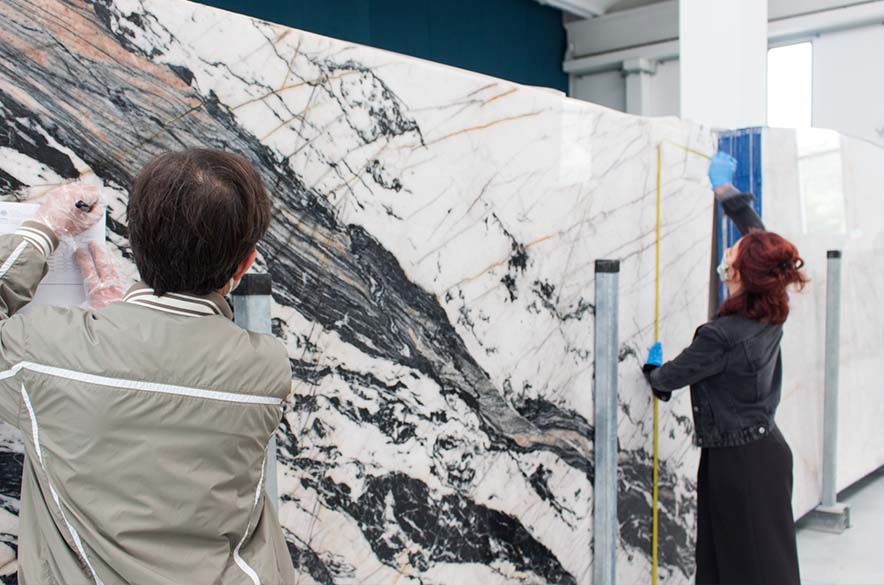 We know how much even the smallest detail can make the difference in carrying out a project. For this reason, when it comes to the choice of our materials, we carefully inspect each slab before its shipping.
When a customer, after receiving all the pictures and the commercial details, is interested in one of our materials, our team proceeds on request with the inspection of the selected slabs.
The aim of the inspection is to provide all the information the client needs in order to understand if the slabs comply with the project he is carrying out. For this reason, the inspection generally begins with a video call in which the customer highlights the features he consider most important in the material: in this way our expert can focus the inspection based on these indications.
During the inspection, a specific report is filled out. It summarizes all the relevant technical information: the uniformity of the finish, the detailed sizes reported in the sketch of the slab, the thickness and planarity check, the indication of any resin-coated vent with detailed pictures.
Once carefully filled out, this document represents the inspection report and it is shared with the customer with all the pictures and videos of the slabs.
The inspection report will be signed by the customer together with the order confirmation and it guarantees the compliance of the slab as stated. With this document, Marmo Elite is committed to ensure that the selected slabs have the features as indicated in the report. In this way for the customer there is no risk and Marmo Elite undertakes to intervene in the event that the slabs do not comply with what is declared in the report
This process allows us to make sure that each slab chosen, fully respects the customer's expectations and needs. It is a service that we carry out for free for those who choose to rely on us, and which we recommend for our most exclusive materials.
The satisfaction and trust of our customers are a priority which takes part in the realization of the most extraordinary projects.
Explore our online stock and find out the perfect material for your needs. Contact us to schedule the inspection of your slabs.