Nero Portoro: Italian Elegance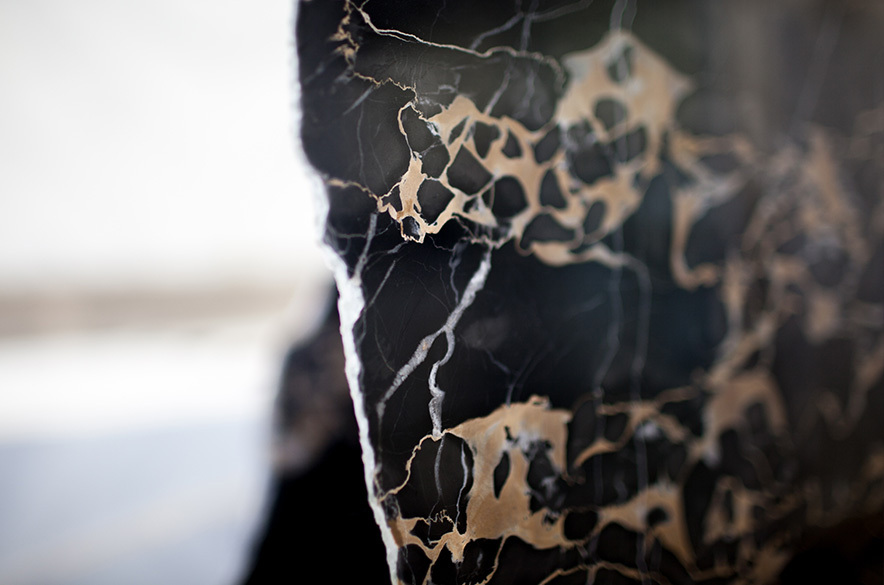 When the elegance of black meets the beauty of gold, a unique marble like our Nero Portoro is born. The beauty and vanity of Italian marble.
Nero Portoro is a refined Italian marble with a classic look, it was already widely used in Roman times, especially for temples, imperial villas and decorative objects.
This material is characterised by the chromatic effect given by the deep black background color, embellished with shiny gold veins that gives it a sophisticated and luxurious look.
When a ray of light hits a slab, new golden veins are discovered, which gives the marble a different look every time.
The most precious blocks of Nero Portoro are those that have a deep and uniform black background, without white streaks, and those with continuous golden veins, not interrupted and distributed over the entire surface. The two best known are the "macchia grande" and the "macchia fine" varieties: the first one has very large black spots, joined together by the veins; the second type is characterised by a complex weave that is more thin than the first one.
Also known as Portovenere marble, Nero Portoro is extracted in the province of La Spezia. The quarries are located along the coast. The output is very limited, which makes this stone even more exclusive.
Materials similar to Nero Portoro are also extracted in China and Santo Domingo, but the slabs do not have the same intensity of black and the brilliance of the golden veins that characterise the Italian marble.
This unique marble is chosen by architects and designers especially to create interiors with a classical and exclusive look for luxury hotels and villas, but also for the creation of decorative interiors for extraordinary locations such as yachts and private residences. It lends itself to a wide variety of uses such as floors, walls, bathrooms, fireplaces, stairs and furniture, always resulting stunning – alone or combined with other high-end materials.
To bring out the elegance of Nero Portoro, the ideal finish is the polished one, that exalts the depth of the black background and makes the golden veins clearly visible and sparkling.
If your project is looking for an elegant, decorative and luxury marble, Nero Portoro is the answer to your desires: discover our selection or contact us to request our free consultation in choosing the most suitable slab for your creation.