Quartzite Avocado: wild nature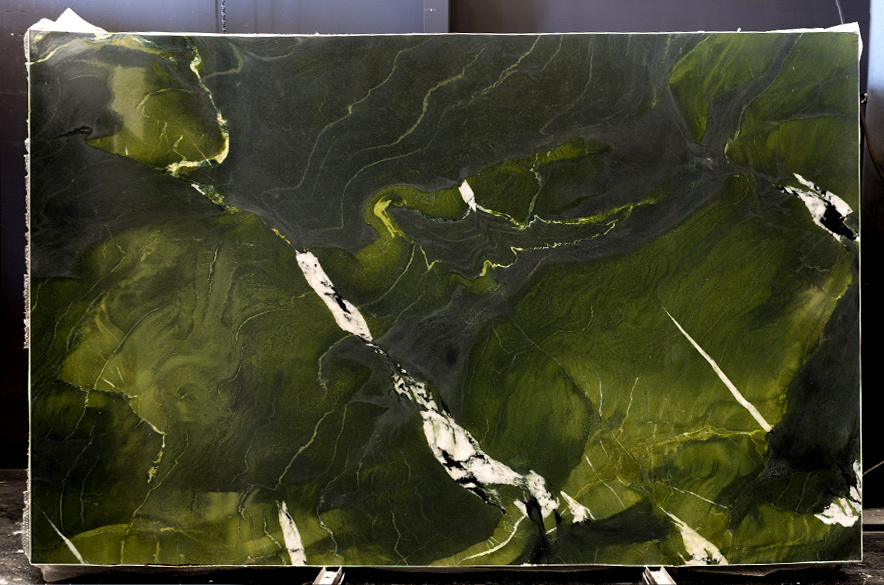 Avocado quartzite, also called Avocatus, is an intense, deep green Brazilian stone. The colours and dynamicity of this material seem to enclose the exotic charm of a wild and unspoiled nature, distant and unexplored places, boundless forests, with a great visual effect that leaves you daydreaming.
The particularity of this quartzite are the intense dark green areas mixed with other of a lighter green, creating a cloudy effect. The inserts of black and white quartzs are making it even more unique, they exalt the background and embellish the surface.
The particularity of this stone is due to its metamorphic genesis which also provides an extraordinary hardness and strength.
The quarry for the extraction of Avocado quartzite is located in Brazil and it was opened recently. Even if it is a new material, this quartzite has been chosen yet by high-level architects thanks to its unique and spectacular look, becoming the protagonist of the most original and fashionable projects.
This stunning stone may be used in several ways: thanks to its resistance it is ideal for making tables, kitchen tops, indoor and outdoor floors.
When polished, the darker green parts of Avocado quartzite also have the characteristic of being matter than the lighter parts; for this reason, the leather finish is the best one for this stone.
If you are ready to bring a touch of exoticism and nature to your next creation, then Avocado Quartzite is the perfect stone to obtain a unique and stunning result. Discover it on our online stock and contact us to receive the support of our experts in choosing the right slab.